Tattoos of the Day
02.12.20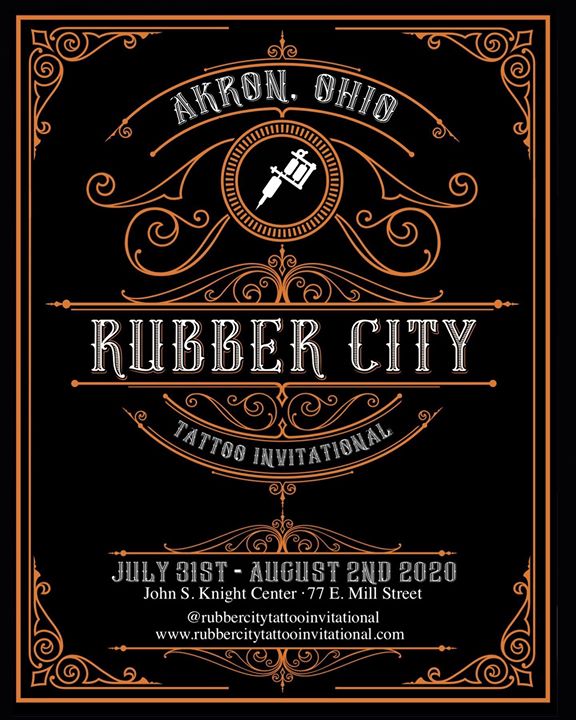 Akron, Ohio: Look at the person to the left of you and the right of you. Chances are, between the three of you, one person has a tattoo. That's right--according to recent research, one in three people in the United States has a tattoo. This summer, The Rubber City Tattoo Invitational will debut at Akron's John S. Knight Center to celebrate the industry and give tattoo enthusiasts a chance to show off their ink.
The show's founders, Tony Urbanek and Elizabeth Clay, are excited to have the Invitational in Akron. Urbanek, who owns and operates Inka Dinka Doo in Pittsburgh, has been tattooing for over 25 years. He is also a machine builder (hint: it's a tattoo machine, not a tattoo gun!) and his shop was just named best shop in Pittsburgh by Pittsburgh Magazine. Clay is an Akron native with a Master's Degree in Psychology. Her research focus was memorial tattoos and how they help with emotional healing.
"I've been travelling to shows for most of my career. Conventions give people a chance to meet some of the top artists in the industry, learn about styles they may not have seen before, and even get a new tattoo from an artist they've admired on Instagram," said Urbanek. "Plus, Akron is one of my favorite cities. People who don't visit Akron just don't understand how cool it is. We want to help promote the city with this event."
"If you talk to anyone with a tattoo, it's amazing just to get the story behind it. The psychology behind why we get tattoos is incredible--everything from where we put it on our bodies to why we choose specific images or words is such a personal experience," Clay added. "The Rubber City Tattoo Invitational is not only a chance for tattoo enthusiasts to share their stories, but to also learn more about the craft, maybe get some new ink, and definitely make new friends and connections in one of the most open and accepting communities in the world."
The family-friendly event will take place July 31-August 2, 2020 and will include best tattoo contests in various categories, kids' events, celebrity tattoo artists, and a travelling tattoo museum. Aside from Tattoo of the Day contents, you do not have to get a tattoo at the Invitational to be eligible to enter your tattoo in contests. For more information, visit www.rubbercitytattooinvitational.com or follow the Rubber City Tattoo Invitational on social media @rubbercitytattooinvitational to stay up-to-date on announcements and news regarding the event.
02.05.20
Welcome to another episode of The HERO Show.
I am your host Richard Matthews, (@AKATheAlchemist) and you are listening to episode #069 with Gabriel Ripley – Supporting Artists in Using Technology to Secure Careers & Propel Their Business.
Gabriel Ripley is a computer geek, progressive businessperson, event producer, business planner, & freelancer amplifying artists, studios, and companies that are leaving a positive impact
Gabe has been helping artists use technology to propel and secure their careers and business since the mid-nineties. After finding great success in promoting tattoo artists, Gabe's first tattoo studio opened its doors in 2005, and grew to a multimillion dollar international tattoo company, before closing in 2018.
In 2007, Gabe started producing professional development events in unique locations, and now produces or co-produces a 4 day tattoo gathering, an art retreat, a 2 day conference, and numerous single day events. Event locations include resorts in Massachusetts, Colorado, New Mexico, Venice Italy, and Dublin Ireland among others. Gabe Ripley has presented at the Worldwide Tattoo Conference and taught a seminar "Building a GREAT tattoo business" at countless tattoo conventions and online.
Here's just a taste of what we talked about today:
• Gabe, having the experience of both building up and then losing a great business, is in a unique position to do stress tests and help people. His goal is to be able to produce a healthy business. In the tattoo world or any kind of business world, it's tough just to get a culture of healthy people who want to communicate and be best-in-class. That's part of his skillset and part of how he helps people.
• Gabe talks about the challenges in marketing the tattoo industry and its artists in the face of negativity from a subset of our generation.
•Tattooing is an exceptionally intense art. One gets tattooed because there is something on the inside that they want to express on their skin.
• Gabe tries to answer the toughest question in this interview: What is his favorite tattoo?
• Gabe talks about his origins in the computer programming industry.
• One powerful mindset/tool that is essential to Gabe is constantly thinking about things in long distances both in time and space. To be in that sense of longevity and thinking about things on that scale. Then, trying to fit all the puzzle pieces backwards.
• "When you're bringing people in, you have to vet 'em and you're betting your millions of dollars on them. You actually have two million dollars and you're putting that in their hands and asking them to hold that responsibility for you."
• Gabe learned from his mentor that every entrepreneur must have a solid Business Emergency Plan.
Recommended tools:
• GSuite – https://gsuite.google.com/
• Microsoft Suite – https://products.office.com/en-us/pro...
• Trello – https://trello.com/en
How To Stay Connected With Gabriel Ripley?
Want to stay connected with Gabe? Please check out his social profiles below.
Website: GabeRipley.com
Website: TattooNOW.com
Socials: @gaberipley
And with that… let's get to listening to the episode…
Rick Mcgrath @tattoosbyrick is now at Painted Temple!

Message him on Instagram or Email: tattoosbyrick@gmail.com for appointments.

Rick also takes walk-ins when he can so feel free to stop by the shop to say hi and set something up!
We are looking for a well rounded professional tattooer to join our crew here at Unify Tattoo Co. You must have a solid portfolio (no, instagram does not count) with a positive attitude. Absolutely NO DRUGS, DRAMA, OR EGO!! This is a family friendly environment and we are also a family. Please make sure that you are prepared for a thorough portfolio review. Please, no apprentices at this time.
Shop Update
Wow, it has been crazy busy here as of late! As always, we thank everyone for their continued support during our recent growth spurts. Here's a quick update on the shop:
Cory has been working on a variety of existing projects, as well as starting new ones. He is such a workhorse! You can catch him in action while doing some oil paintings and tattoos on Twitch.
Ryan is an incredibly busy guy! He just recently returned from a guest spot in Phoenix and in March he will be traveling to Thailand to represent Red Arbor at the Thailand Tattoo Expo. Be sure to watch his Instagram page for updates on Adventures With Ryan!
Cody is the most recently added talent to the Red Arbor team. His neo-traditional designs are a hit and his calendar definitely shows that with how quickly it's filling up. While settling into Red Arbor, Cody has openings for consultations and appointments.
For all inquiries please visit https://redarbortattoo.com/
Again, we thank each and every one of you for your continued trust and support of Red Arbor Tattoos & Fine Art!
Red Arbor Tattoos and Fine Art