Tattoos of the Day
09.30.19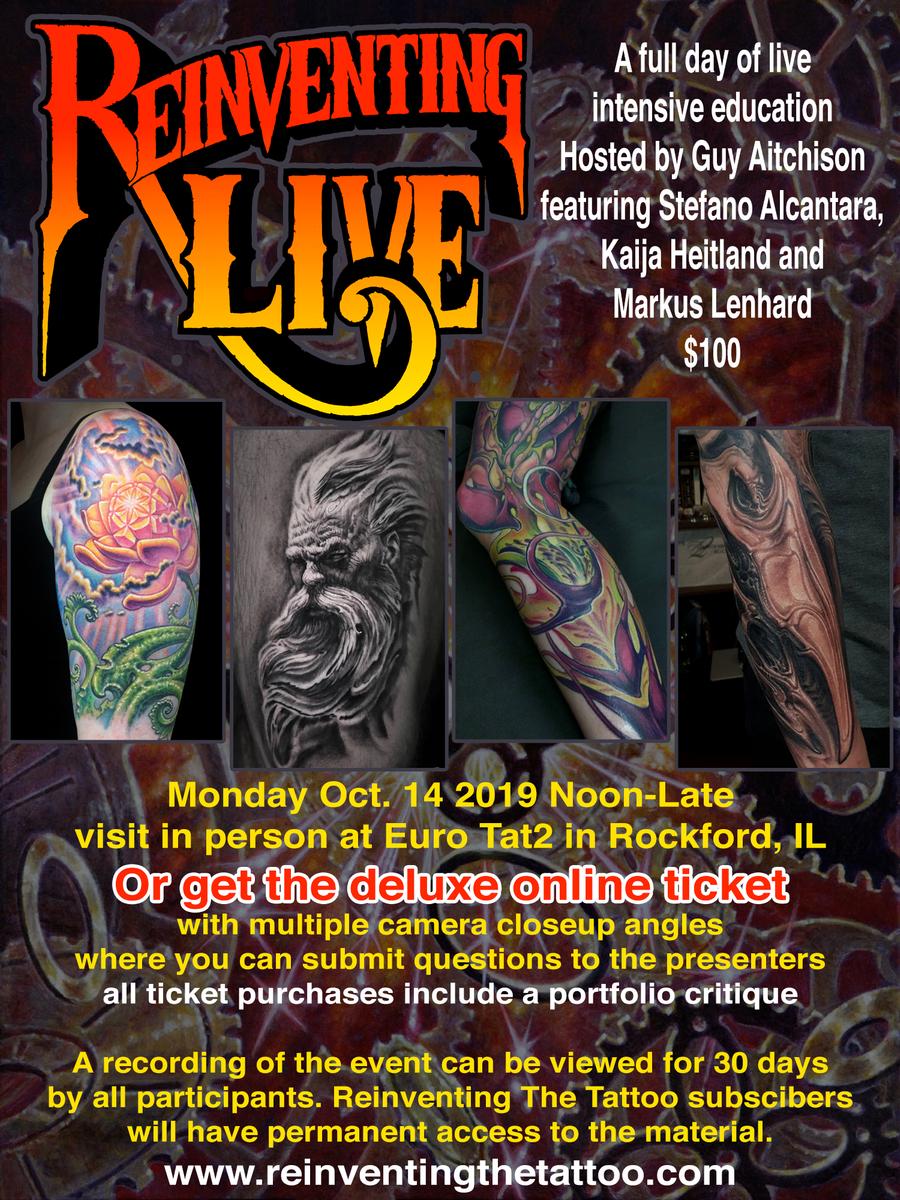 Just a reminder about the Reinventing Live event coming up on October 14. If you are bumming because you can't make it in person I wanted to mention that online participation will offer a closeup and detailed view of the proceedings and will allow your involvement by submitting questions to the presenters. All participants, both online and in person, will also get a portfolio critique, and a recording of the day will be available for a full month. The day's curriculum will start with @stefanoalcantara @luxaltera and @kaija.heitland.tattoos working on live tattoo projects while I get up close and technical with them, picking their brains about both composition and execution of their projects. This will include audience questions both live and online. This will be followed by an energetic panel discussion between the presenting artists. To cap off the evening I'll be doing another piece later in the evening which will also be broadcast live. This is a chance to get inside the minds of a number of experienced artists and ask the questions that you've always wanted to! As a bonus, all Reinventing The Tattoo subscribers who purchase tickets will get an exclusive Reinventing Live hoodie, and will have permanent access to the recorded class in their Reinventing subscription. We'd love to have you involved, drop by ReinventingTheTattoo.com for more information! #tattoo #education #tattooeducation #tattooseminar #art #artseminar
Lucky Bella Tattoo Studio presents The Edge's 12 Guitars Of Christmas! This year, we've got tons of new guitars that have been autographed by some of your favorite Edge bands and artists for you to win!
The 12 Guitars of Christmas are finally here! Stop on by to see them in person, and be sure to register online at www.edgelittlerock.com and listen to 100.3 The Edge for your chance to win!
Our 12 Guitars of Christmas Giveaway Party will be on December 13th at the studio, be sure to stop by for another chance to win!