Tattoos of the Day
05.14.20
The Future of Tattoo Conventions - Live 9AM EST
04.23.20
Drinking and Critiquing tattoos! This Drunk Tattoo Critique replay featueres - Bob Tyrrell from Detroit, Tony Romel from Tattoo Society in NYC, Rain Delmar who paints and tattoos in Queens NY, Stefano Alcantara who owns 4 tattoo studios and promotes products/conventions/creates amazing art, Thea Duskin who has owned studios and show original artwork worldwide, & podcaster/tattooer/seminar teacher and producer Jake Meeks. Over two hours! So much fun. take a drink. another. critique yourself. If you like submit info at https://www.drunkcritique.com Would you like to sponsor the show so we can make it better? joinforceswith@drunkcritique.com Please comment, subscribe and share videos you enjoy!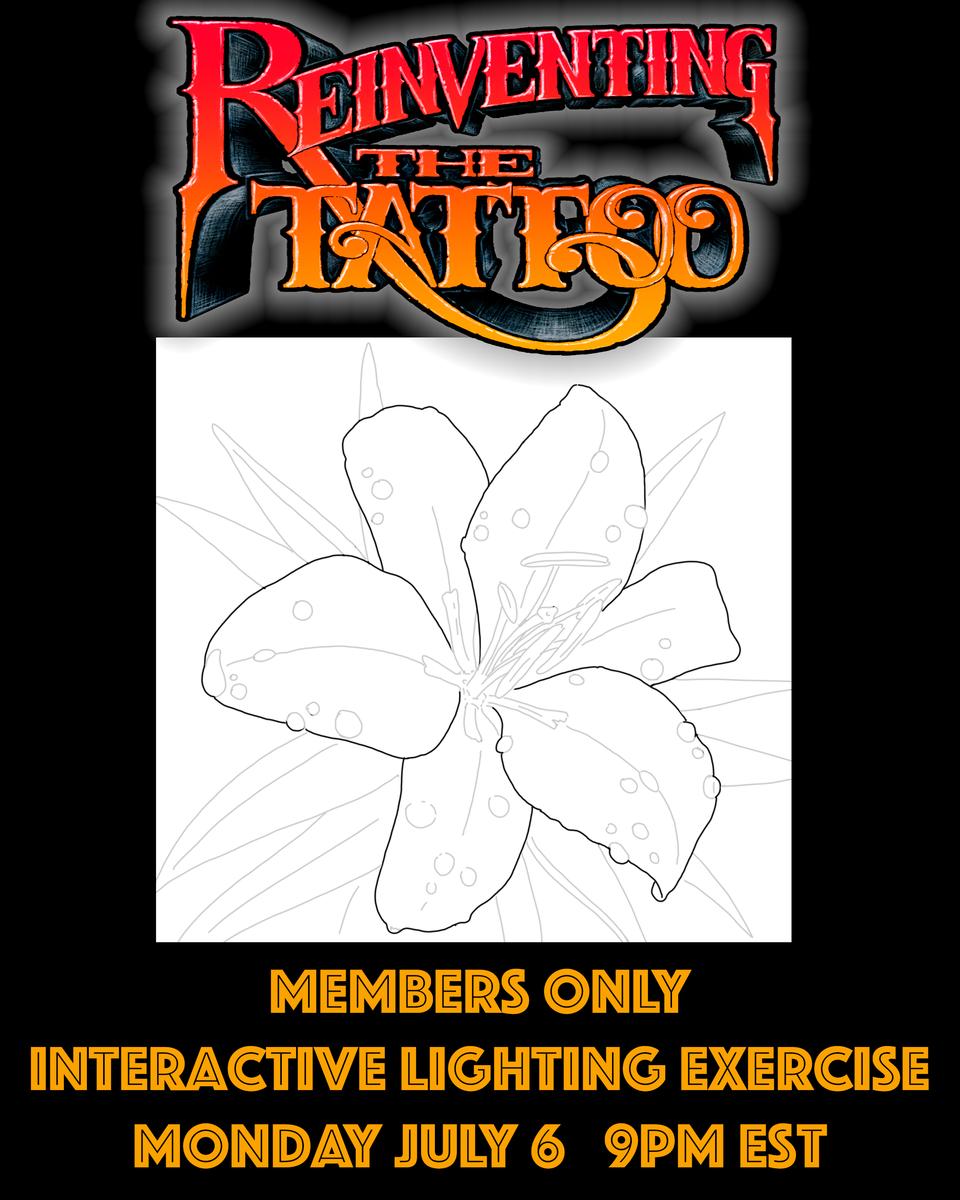 This coming Monday July 6 will be another live interactive drawing exercise for Reinventing The Tattoo members. This time we will be focusing on lighting, using the outline pictured here and lighting it several different ways. Guy will discuss lighting theory as he walks participants through each 20 minute drawing where the flower will be lit from above in one of them, another lit from below, and a third with the light source in the center of the flower. After the session we'll all post our drawings with the hashtag #reinventingdrawinggroup so we can comment and compare. This will all be happening on the new Reinventing Live channel which can be found at the News page of your ReinventingTheTattoo.com subscription. Past interactive exercises can also be found by scrolling down in the news feed. We are doing these regularly, and are trying to time them so that they won't conflict with your tattoo schedule (Monday nights). If you know any other subscribers, spread the word, we'd love to have you all involved. See you Monday night! #tattoo #education #tattooeducation #drawingclass #seminar #tattooseminar
We are opening a 3rd location in Gallatin and are now looking for licensed and experienced artists and piercers. contact us if you are interested!
We will be closed for the 4th of July and will resume normal business hours on Sunday, July 5th. We hope everyone has a happy and safe Fourth.